IE8 and Acid 2 Test
Well, looks like the folks at Redmond were not kidding when they say that IE8 passed the
Acid Test
.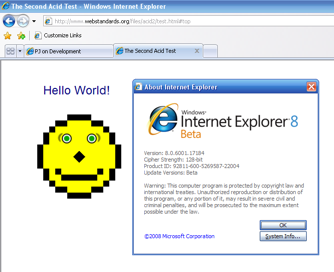 Yes. It passes the test. But using
Standards Mode
it will likely break every single website out in the wild.
Once again, I catch myself wondering why the folks in the open source community hates the guts of Microsoft.
What I think is that if you have a good software platform and a HUGE market share you're deemed the bad guy, no matter what.
Wait a minute! Wait just a freaking minute!
By that standard the guys at Google are the new bad guys in town!
Doesn't it mean they must start hating those guys too?